Sidebar
5 Digit Display Controller for Load Cells
Product Code:
ATO-DDC5-CHB
Product Description
Intelligent digital display controller can be used for measuring pressure, impact force, tension and weight, has functions such as zero tracking, automatic zero clearing when power on.

Specification:

Basics
Model
ATO-DDC5-CHB
Dimension
A: 160*80*125mm horizontal, hole size 152*76mm
Shipping weight
2 kg
Technical parameters
Display
-19999~99999
Measurement accuracy
0.05%
Measuring speed
10 times/second
Display method
5 digit LED display
Instrument power supply
100-240VAC, 50/60Hz
Input signal
±25mV
Indicator light definition
Alarm 1, alarm 2, MOT, zero, gross, net, peak, valley, t, kg, g, kN
Alarm
Two alarm outputs
External power supply
10V precision power supply
Working temperature
-25~+80℃ (-13~+176℉)
Wiring diagram: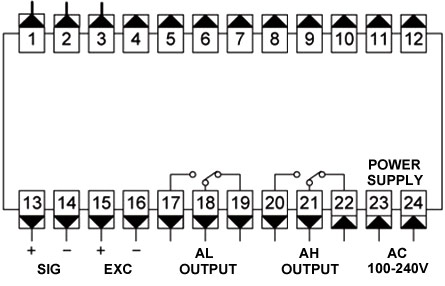 Tips: How to judge whether the measurement of display controller for load cells is correct in the field?
Sometimes, one person can stand beside several load cells respectively to check whether the value of digital weighing controller is the same, and whether it is the weight of that person. This method is very simple and effective. If the data displayed for each sensor is not the same, there exists angular difference. And then it can be judged that the data is inaccurate when the weighing controller is used to measure the large object. Therefore, the height of each sensor should be adjusted to eliminate the gap. If there is no angular difference but the display data is not correct, it is necessary to recalibrate the body. When judging whether the body works normally, the user also can push the weighted container or tank with hands within short time to check whether the changed display data restores to the numerical value before pushing the body. If not, it indicates there is something with the external mechanical connection and there exists external force supporting the measured container or tank.